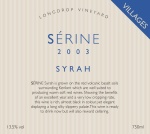 2003 was harvested on the 20th of April 2003 after a fairly normal season up until mid March. From then on it was a cooler season than usual and there was also more rain about.
However we picked good clean grapes with good ripe flavours and as usual with our wines reflecting the long warm growing season we have in the North, the Syrah is not heavily peppery (see The Vineyard for more information). Acid balance was very good.
Given the vintage the wine was made slightly differently than normal. It was made initially in more in a Pinot style - albeit a heavier style of Pinot! but it was finished with over for two years in new and old Seguin Moreau barrels with aim to make a more ready to drink now style of wine. Also reflecting some time we spent in the US the wine was finished in a US style which results in a plusher fuller wine style.
Pretty nose showing lifted red fruits and spice.
Smooth and silky. Full in the mouth on entry and very drinkable. Elegant rather than heavy. There is a red fruit spectrum based on the raspberry backbone the site always gives us with some darker fruits giving some complexity, rounded out with some spice and vanilla from the oak. Moderate tannins follow allowing good palate length.
6.1 gm/ l of total titratable acidity