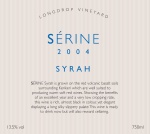 Almost perfect! A little cool in February but we had such a good start in December that the grapes were well advanced by then and the vintage finished with long hot dry summer days in March.
We picked on the 6th of April with the grapes in excellent condition. Sugar was 23.5 brix, acid 8.3 gm/ l and pH was 3.4. Cropping levels were really low at 1.5 tonnes per acre.
The wine was made very simply – this being one of those years you add yeast and stir and finish with good oak and a little fining only. The 2004 wine was given more new oak than the 2003 reflecting the better vintage.
Delicious now, this wine will also cellar for many years.
Nose shows lifted red and black fruits with some spice and vanilla from the oak.
Silky and slippery on the palate, full, showing high concentration from the low cropping yet very elegant despite the weight. Black fruits but with our traditional raspberry backbone still there. Palate finishes with black fruits, a hint of white pepper, with soft tannins and oak well integrated. Very long and plush palate.
6.5 gm/l of titratable acidity